LEARN GEORGIAN FAST WITH INDIVIDUAL GEORGIAN COURSE
Our school has 12 years experience of teaching Georgian language, we were one of the first language school specialized on teaching Georgian and Russian languages for English speaking people.
School offers Georgian private training for adults all year round. During this Georgian course, which is tailored to suit students' individual needs and level, teachers provide personal guidance to ensure you make progress effectively. Studying Georgian in Georgia gives you the chance to do much more than just master the Georgian language. In fact, choosing Georgian language immersion programs means that you also get familiar with Georgian culture during your stay in Georgia.

GEORGIAN ISN'T HARD TO LEARN
The stereotype that the Georgian language is complicated and very hard to learn is probably due to its uniqueness and isolation from other languages. It is straightforward to learn. The only real difficulty is the verb system.
Our course is specially organized for international people, who are interested in learning Georgian Language in Tbilisi and be familiarized with Georgian culture. Staying in our country is an exciting and unique way to learn about Georgian history, culture and traditions. It's a wonderful opportunity to study and practice Georgian conversation.
GEORGIAN LANGUAGE COURSE CONTAINS: Speaking, listening, grammar, vocabulary, reading, writing and special course about Georgian history and culture. Course is designed both for beginners and peoples with skill of basics in Georgian Language.
Each lesson lasts 45 minutes (with the possibility of putting one lesson after another), and of course there is always only ever one student in a lesson, which means the Georgian lesson can be adapted to suit the student's learning speed and profile – for example whether the student is calm or dynamic, shy or communicative;
Georgian employs it own unique form for writing. Called Mkhedruli (the military/secular writing), the Georgian alphabet consists of thirty-three letters: 5 vowels and 28 consonants: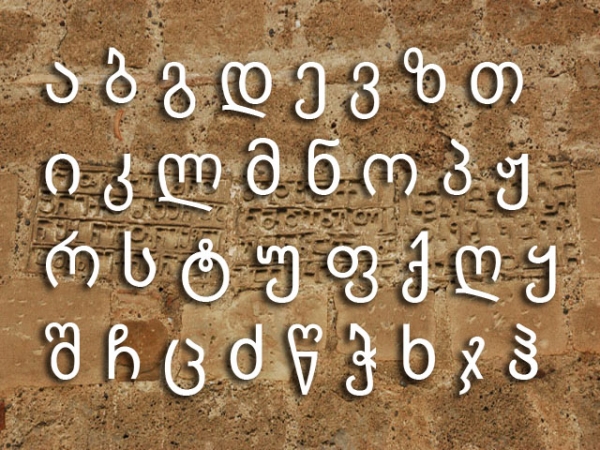 THE BENEFITS OF THIS COURSE
Georgian private training for adults is a very good idea for those who wish to benefit from individual guidance and really personalise their Georgian immersion course. The course is ideal for:
Understanding Georgian grammar rules
Maintaining and developing speaking skills
Maximising your range of Georgian vocabulary
Enjoying individualised teaching tailored to suit your needs
Making progress faster but always at your own pace
OUR DIFFERENCE FROM OTHERS
Professional and experienced teachers
The best teaching materials and textbooks
Comfortable accommodation very close to the school
Airport pick up and back transfer for free
Certificate of achievement
Social Programme (excursions & wine tours)
Personal, professional and friendly advice at all times.
OUR COURSE OPTIONS:
1-TO-1 COURSE-20
- 20 lessons per week = 4 lessons X 5 days
1-TO-1 COURSE-10
- 10 lessons per week = 2 lessons X 5 days
1-TO-1 COURSE-25
- 25 lessons per week = 5 lessons X 5 days
1-TO-1 COURSE-6
- 6 lessons per week = 2 lessons X 3 days
1-TO-1 COURSE-4
- 4 lessons per week = 2 lessons X 2 days
COURSE DURATIONS:
Possible duration of course: from 1 week to 48 weeks.
PRICE LIST (1-to-1 courses)
* All prices are stated in Euro. Payment can be made in Euro, USD or GEL.
Included in the course fee: Assessment test, tuition and teaching material, course certificate, information material, tea/coffe during the brakes, free access to the Internet.
* Start Date: any Monday. 1 lesson lasts 45 minutes.
Weeks
1-TO-1 COURSE-20


4 lessons X 5 days

1-TO-1 COURSE-10


2 lessons X 5 days

1-TO-1 COURSE-25


5 lessons X 5 days

1-TO-1 COURSE-6


2 lessons X 3 days

1-TO-1 COURSE-4


2 lessons X 2 days

1 WEEK
250 €
200 €
300 €
120 €
-
2 WEEKS
500 €
400 €
600 €
240 €
160 €
3 WEEKS
750 €
600 €
900 €
360 €
-
4 WEEKS
1000 €
800 €
1200 €
480 €
320 €
BOOK NOW!
Picture gallery
Contact us